Business Surface Pro
Thin tablet computer with good performance and trouble-free work in Microsoft and Windows programs.
Professional machines with fast connection to e.g. work tasks, cloud, meetings. Easy USB-C connection to dock, monitor, keyboard etc.
Surface Pro »
Options
If you need accessories for your computer, you can find it here...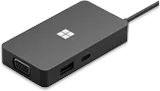 Surface docks »
Surface keyboards »
Business model
Get introduced to our quality and price program: New Retail, Remanufactured and Refurbished.
Products
Laptops, Desktops, Server & Storage, Options & accessories. We can match all budgets and prices.
Reseller
We have helped more than 3000 IT-resellers and can also help you. Learn about your benefits and register as reseller today.
Used IT
Sell your company's used IT to us - it's easy - we handle the entire process and document secure data deletion.
Newsletter
As a customer, you can receive campaign offers and news automatically. If you are not already a customer, you can easily register now and sign up for newsletters at the same time.